June Luncheon: Connors Steakhouse, Fort Myers
June 28 @ 11:45 am

-

1:00 pm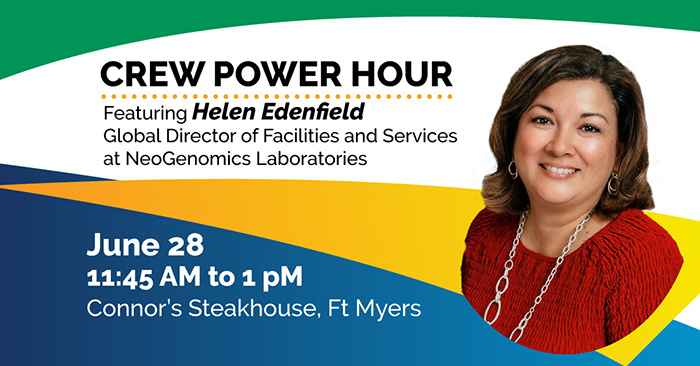 JUNE CREW POWER HOUR
Speaker: Featuring Guest Speaker, Helen Edenfield
Topic: Global Director, Facilities and Operations Excellence at NeoGenomics Laboratories
Join us as Helen Edenfield shares what she has found to be effective leadership qualities in her experience in different roles throughout her career.
Helen has been in the Health Care industry for 30+ years, focusing on Radiology, Nephrology, and Lab Operations for Cancer Genetic Diagnostics.
Over the last 20 years, she has served in Supervisor, Manager, and Director Roles for NeoGenomics Laboratories. In her current position as Global Director of Facilities and Services, she has oversite of Real Estate, Facilities (500,000+ sq. ft.), Bio-Medical, Business Continuity, EHS, and Security.
Her professional interest focuses on organizational quality/compliance, change management, equality, and staff development.
Although her position has global oversite, she strongly advocates for the development of Southwest Florida. She supports the local community serving on the Horizon Council as Treasurer and Business Issues Committee member.
---
Please Note: Non-Member attendance is limited to 2 events. Non-Members attending more than two events will be charged a fee of $30.00 in addition to the Non-Member event price of $45.00 for each additional event they attend. Reservations received after June 21 will incur a $10 Late Registration Fee.
Please Note: All event payments are final and non-transferrable. We're unable to provide refunds or event credits, since we incur charges based on the number of advance registrants.